Nina Funnell writes that girls are learning to read their value as a person in terms of how their physical appearance is received by others.
"Destiny enjoys singing, dancing and, of course, pageantry" announces the beauty pageant's MC as a made-up blonde in a white gown sashays across the stage. Did I mention that Destiny is a five year old child? Welcome to the world of Toddlers and Tiaras, an American reality TV series that follows the lives of children and their families as they prepare for and compete in beauty pageants.

Having recently sat through a Toddlers and Tiaras marathon (as research for a book chapter) I now consider myself an expert on winning children's beauty pageants.

The first thing you need is a pushy and obnoxious mother who has no problem with screaming at her child. In one episode a mother screeches "Flirt! You're not flirting!" as her six year old daughter practices her routine. "Stand up straight, suck your tummy in!" directs another. In one episode a girl cries in pain as her mother attempts to force an earring through a closed up ear piercing. And another ignores her five year child's cries of protest as her eyebrows are forcibly waxed adding that her daughter "is just a bit, kind of terrified" because the last time "the wax was way too hot and it actually ripped off her skin".

The second thing you need to do is fake-it-up. From the age of about two girls begin to wear fake hair, fake eyelashes and fake teeth sets (known as "flippers"). Almost all girls get fake tans with a number owning their own spray tanning machines at home. One four year old is taken on "diva days" where she is "treated" to facials, manicures and pedicures. Others have waxing, teeth whitening and chemical hair straightening as well as weaves and hair extensions.

And then there is the all-important clothing. "Glitz" outfits – dresses decked out with diamantes and other jewels – cost between five and ten thousand dollars. One mother admits that she has spent more than $15 000 that year alone on pageants, adding that if she saved the money her family "could probably live in a bigger home, but [winning Miss America] just feels like my daughter's destiny." Her daughter is only three. Other mothers talk about taking "second pageant jobs" to pay for the expensive and numerous competitions.

Then there is the cost of hair and make-up, professional photography and photo retouching (airbrushing), and the price of pageant coaches who train the girls. Brandi, a thirty-one year old Prozac-popping coach who thanks God for bringing her to pageantry, offers her six year old clients bonus advice on picking up boys, "I tell them to get with the smart boys- the nerdy ones- because when they grow up, they're going to be the rich ones, and you can be a trophy wife".

On pageant day parents wear tacky customized t-shirts displaying their child's name and photo. Three year olds have "before and after" shots displayed on the show like on diet product advertisements. One mother feeds her child three cans of red-bull energy drink before competing to keep her "perky" during competition. A six month old girl already has seventy pageant titles to her name. Girls perform sexualised dance routines imitating MTV video clips. And boys compete too. One 'Little Mr' is introduced by the MC as "Matthew", adding that "Matthew's favourite person is his daddy in heaven".

While the show may sound exploitative and crass, it is actually documenting the appalling and exploitative behaviour of stage parents who live vicariously through their children's achievements. It's incredibly cringe worthy to watch but the show offers an important window onto a world which many of us are only aware of through the adult outputs of the industry in the form of Miss Universe winners and runner-ups.

Meanwhile, the media continues to laud individuals such as Miranda Kerr and Jennifer Hawkins (and to a lesser extent Jessinta Campbell and Rachael Finch). These women, as supposed role models, teach little girls (and stage parents everywhere) that the easiest way for a girl in today's society to achieve fame, fortune and success is to win a beauty competition.

It's hardly surprising that little girls are now feeling anxious about their bodies at an earlier and earlier age. Nor is it surprising that they are learning to read their value as a person in terms of how their physical appearance is received by others. Seeing little girls being judged, scrutinized and assessed over their appearance is truly distressing. Even worse, the fact that this process is not only normalized but actually celebrated by their parents is just horrific.

Equating a girl's self worth with her appearance is a dangerous and destructive game and one that the media encourages girls to play from a very early age. Parents should want to protect children from this message, not teach it to them.
Oppose US child beauty pageants coming to Australia
If you haven't watched it already, this ACA video is a must-see. It provides further evidence for the sheer ugliness – and harm – of child pageant culture. We meet the American woman behind plans to bring this toxic child exploitation fest to Australia in July – and the Melbourne woman who will run it here. She is already preparing her young daughters for entry. One reveals she doesn't like wearing make-up – but that is clearly of insignificant to her mother who is too busy organising her daughter's body waxing to care. Someone who does care is Julie Gale, my colleague and friend from Kids Free 2B Kids who also appears here.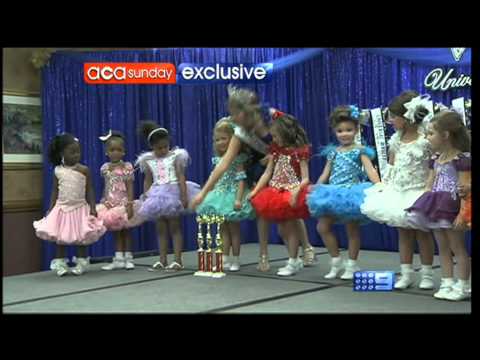 See also 'Mums to protest bringing US-style beauty pageants to Melbourne'  (It's not just mums protesting of course).