UK Glamour Magazine has included Suri Cruise in its annual list of the world's "Best Dressed Women"
Up there with Samantha Cameron and Alexa Chung, Tom Cruise and Katie Holmes' daughter is rated number 21 – ahead of Lady Gaga and Sarah Jessica Parker.
Suri Cruise is 5 years old. This little 'fashion icon' still needs help dressing herself and uses a dummy. She is not a woman and Glamour UK shouldn't have included her in the list. Doing so contributes to the unremitting adultification of celebrity children (and non-celebrity children). It invites us to see Suri Cruise as much older than she really is, which is dangerous to her.
Here's what I had to say about it on Channel 7's Morning Show last week. Journalist Melissa Hoyer and parenting commentator Yvette Vignando felt the same way.
Botox injections for 8 year old pageant girl
In the latest installment of 'horrors inflicted on small girls in the name of child beauty pageants' comes this story, about an 8 year old in the US who undergoes Botox to keep up with the other girls in the tough world of pageants.
Kerry Campbell has admitted that she regularly injects daughter Britney with Botox. Apparently Britney had complained about the wrinkles on her face – after they were pointed out by other pageant children- so her mum thought it a good idea to administer Botox. "Kids are harsh and being confident is something she has to be with them," Campbell said.
You can watch her interview with Good Morning America here: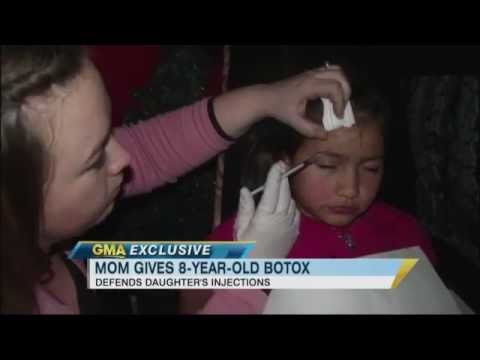 In my view mother and daughter are both victims of beauty culture, and especially of child beauty pageant culture, which reeks with over the top beauty and grooming practices, sexualised dance routines and expensive glitzy costumes. Five year old child beauty pageant 'star' Eden Wood is being touted for interviews with Australian media with a price tag of up to $20,000. Oh, and she'll be doing her Las Vegas Showgirl routine when she gets here in July.
How many more reasons do we need to keep child beauty pageants out of Australia? Please join the campaign. Sign the petition, join the Austrailan's Against Child Beauty Pageants facebook and attend the protests country-wide May 24.
See also: Petition launched to stop US child beauty pageants in Australia
Child beauty pageants: equating girls worth with appearance dangerous and destructive
Tags:
adultification
,
Advertising
,
advertising standards board
,
Australian Childhood Foundation
,
Australians Against Beauty Pageants
,
body image
,
Care2
,
child beauty pageants
,
childhood
,
children
,
collective shout
,
commercialisation
,
corporate paedophilia
,
Eating Disorders
,
exploitation
,
fashion
,
Katie Holmes
,
marketing
,
Right to Childhood
,
sexual assault
,
Sexualisation
,
Suri Cruise
,
Toddlers & Tiaras
,
Tom Cruise
,
UK Glamour